Free Delivery

Absolutely FREE Express International Shipping

Unconditional Returns

Support return within
7 days

Guaranteed Payment

Support
fiat and crypto

Customer Support

24*7
customer service.
Features
Security

The private key is stored offline and never connected with the network. The built-in CC EAL6 + military-grade encryption security chip guarantees product security from the source and effectively resists physical-level attacks.

Bluetooth Connection

The device can seamlessly connect to the HyperPay APP via Bluetooth. The Bluetooth design bids farewell to the scene settings of traditional hardware wallets, allowing you to manage your assets more securely anytime, anywhere.

Currency Support

The device supports multiple currencies, including BTC, ETH, BCH, EOS, LTC, HC, QTUM, USDT, etc., as well as all ERC-20, QRC-20, and EOS tokens, and it can support more currencies through COS upgrades.

Convenient Management

The device is able to manage all the crypto assets and DApp, and handle all transactions through HyperPay APP.

MultiSig

HyperMate supports BTC multisig, and it is the first hardware wallet that supports HC multisig. It will support hardware multisig of more currencies soon.
What's in the box
HyperMate G*1

USB cable*1

Manual*1

Recovery Cards*2

Lanyard*1

Handmade Cowhide*1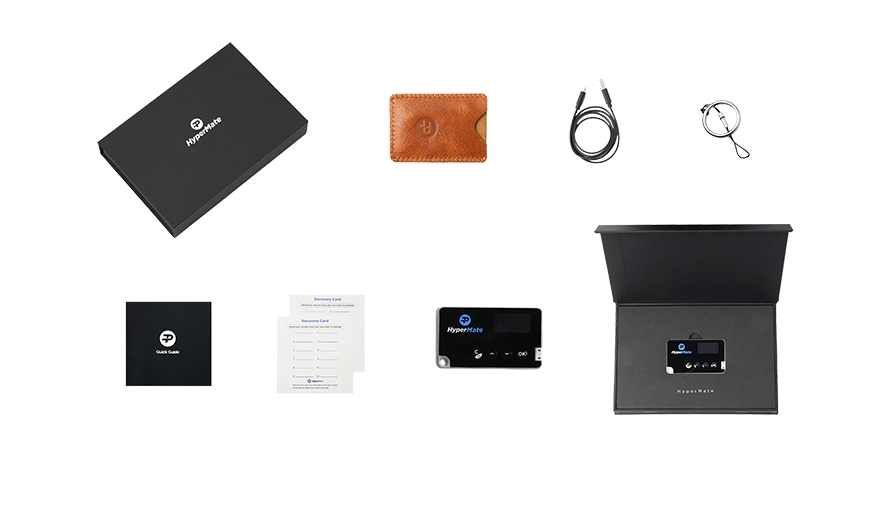 Technical Norm
Exterior Design

Size: 64mm x 38mm x 2.3mm
Buttons: Cancel/Mains, Up, Down, OK
Monitor: , 0.96 inch
Resolution: 128 x 64

Hardware Components

SE Chip: Infineon CC EAL 6+
BLE Chip: Nordic
Battery: 33mAh Rechargeable Lithium Battery

Norm

Authorizationss: CE, FCC, WEEE, DOE, CBC, CC EAL 6+, RoHS
Connection: Micro USB, Bluetooth 4.1
Supported SYstems: Android, iOS
Recovery Standards: BIP32/BIP39/BIP44/BIP45
Supported Currencies: BTC, ETH, BCH, EOS, LTC, HC, QTUM, USDT, ERC-20, QRC-20, EOS Tokens(still adding)
Attention
In order to guarantee your after-sale rights, please properly keep the valid proof of purchase.
Without the permission and authorization of the HyperMate team, the damage of HyperMate G or other unusable situations which are caused by unauthorized disassembly, repair, modification, or other operations, cannot enjoy the free after-sales policy.
HyperMate G products are products that depreciate greatly after activation or usage. Therefore, HyperMate G products that are activated or used are not eligible for a 7-day no reason return policy.
After-sale Policy
Secure, More Than Secure
Hardware MultiSig
FCC Authentication
CC EAL6+ Security Element
2.3MM Thick
Bluetooth Connection
Support firmware update via Bluetooth
User Unboxing Video
After-sale Service FAQ
01
Can I return the product if I decide I do not want it?
Let's say that you had received the HyperMate you ordered, but you decided that you do not need it after all. Do not worry - you can send it back and we will give you your money back.You can return the product and claim a refund within 7 days after you have received it. For more information, contact our official CS and we will give you all the necessary information.
02
What are the possible outcomes of a refund claim?
There are two refund types, depending on whether the package is open or not:
Full refund - You initiate the returning of the product within 7 days following the delivery and the box containing the product is not opened.
Partial refund - You initiate the returning of the product within 7 days following the delivery of the product. The box is opened, but the product itself is not damaged.
Partial refund means that we might not be able to send you the full price you paid for the device. To be sure that you receive the full amount, it is always safer to leave the product box unopened. We realize that this charge might not always be convenient for the customers. However, as a hardware wallet must be taken 100% seriously to make sure the security of the funds stored in it, we have to inspect and test the device that has been opened, which takes some time.
Please keep in mind that the shipping fees (in both direction) will not be refunded when returning a product.
03
How long does the RMA process take?
We inspect all returned items when they arrive at our processing facility. Although we try to process your claim as soon as possible, it can take us up to 30 days, starting with the date that the product is delivered back to us.
04
How long will refund take?
When you request a refund, the Support Team will evaluate your claim and determine the amount to refund. We will then ask you to confirm the result. If approved, the Support Team will ask you to send the product back to us as well as ask you for payment details. Processing the refund should not take longer than five days after having received the product.
05
Will my refund be paid in crypto or in fiat?
If your original order was paid in crypto, so will be the refund. Let us have a look at an example situation: You made an order and you paid in crypto. A week later, you would like to return the product and claim a refund, and we will refund the same amount of crypto assets you paid at that time.
06
I think that my product does not work correctly and I want to return it. What should I do?
If you think that there is something wrong with your HyperMate device, please start by contacting our Support Team. We will do our best to help you resolve your issue.
If we are unable to help you, you will need to ship the product back to us and start the RMA process. Do not worry, we will give you all the necessary information when you contact us.
Please make sure that the product is still under warranty.
07
How long is the warranty period?
The warranty period starts on the date of the original purchase of the product and lasts for one year.
08
When I find that the HyperMate I received is defective and want to return it?
During the warranty period, users can enjoy the following after-sales services with the warranty certificate:
1. Users can choose to replace the same model of HyperMate or return within 7 days after signing for the package, if the device is confirmed intact (including but not limited to that it has not been activated or used) and there is no product performance failure or appearance damage caused by human factors by the HyperMate team. The valid purchase certificate, HyperMate device and accessories (including HyperMate device, USB charging cable, product manual, etc.) and the gifts, if has, must be returned together, and cannot affect the secondary sales.
2. For the avoidance of doubt, HyperMate are commodities whose value depreciates significantly after activation or use, so the activated or used HyperMate does not apply the 7-day return policy above.
3. If there's any quality problems on the device caused by non-human reasons, the HyperMate team promises to freely replace the same model HyperMate for users once we confirm it because in view of the safety requirements of HyperMate, HyperMate cannot provide any form of repair service.
4. The return shipping fee produced by quality problems (except for human reasons) shall be borne by the HyperMate team; the return shipping fee produced by non-quality problems shall be borne by users.
5. Users must be sure to clear all data in HyperMate before returning or replacing the device, and to save the wallet mnemonics and PIN codes properly; otherwise, all possible consequences (including but not limited to hacker attacks, loss of digital assets, data loss, leakage, etc.) shall be borne by users.

In the following cases (but not limited to the following), users do not enjoy the warranty service of HyperMate:
1. The HyperMate replaced or returned by users is verified non-genuine through the product serial number;
2. The HyperMate is reasonably determined by HyperMate team that there is non-quality problem, including but not limited to normal discoloration and wear during use, and mismatch to the software wallets and mobile devices used by users;
3. The HyperMate exceeds the validity period of the warranty service;
4. The HyperMate is damage due to users or other third-party human reasons (including but not limited to failure to use, maintain, and store products in accordance with the product instruction manual);
5. The HyperMate is returned incomplete, lacking accessories or gifts, etc.;
6. The HyperMate can have the fault resolved through upgrading;
7. The warranty certificate and/or invoice provided does not meet the requirements;
8. Damage caused by force majeure such as fire, flood, lightning strike, etc.;
9. Other circumstances stipulated by applicable laws, regulations and policies.